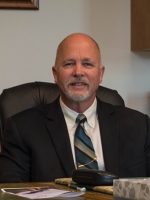 The Lord blessed me even before I was born, by preparing a deeply spiritual home for me in Tyler, Texas. My parents were devoted to God, His house, His day and His people.
I made a sincere profession of faith and was baptized at Hebron Baptist Church in Tyler at the age of 12. Planning to be in heavy construction, I attended Texas State Technical Institute in Waco, Texas. At the age of 25, I had a very definite call from the Lord to preach the gospel of Jesus Christ. I'm sure many people wondered why God would call someone like me into His ministry. Being shy and timid, I had never had a desire to speak in public. However, I felt in my heart that God had a divine plan and purpose for my life. It was a ͞gift" that carried with it so much responsibility. I felt so inadequate and yet so humbled that He would consider me for such a task. The confidence I had for such a life calling was in the Lord alone, not in myself or my abilities. As I began to saturate myself in His Word, I realized that He was truly able to use even me, and He was asking me only to be obedient and submissive to His sovereign will.
My wife, Janeye, became a Christian at the age of 17 and has been an active supporter of my ministry. One of her greatest ministry strengths is her love and compassion for people of all ages and walks of life. She believes in the power of prayer, and I know her prayers for me have had a tremendous impact on my life and ministry. She has been a wonderful helpmate, and I thank God every day for allowing her to be mine.
Our greatest desire is to be in the center of God's will. We never know what He has in store for us, but we trust Him completely for avenues of service. He is faithful and trustworthy. His ways are always perfect. As a pastor and teacher of God's Word, I strive daily to be the leader God wills me to be.
My goal as a pastor is to lead my church to be a strong, Bible-believing church that is evangelistic in reaching the lost, committed to discipline and sensitive to the needs of people. I want to grow as part of a "working" and "serving" congregation of believers that recognizes the importance of discovering, developing and exercising their spiritual gifts to build up the body of Christ.
Romans 8:28 – We know that all things work together for good for those who love God, who are called according to his purpose.